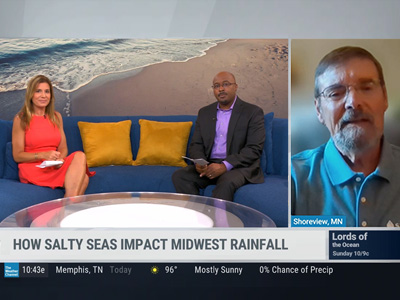 Using Salinity to Predict Midwest Heavy Rainfall (Weather Channel Interview)
[14-Jul-2022] Live interview with Dr. Ray Schmitt (Woods Hole Oceanographic Institution & Salient Predictions, Inc.) on the Weather Channel about the use of salinity to predict heavy rainfall in the US midwest.
Interest in this topic? Check out our
"Water Cycle Synergy" StoryMap
.
Visit our Highlight
to learn more about the ties between sea surface salinity, rain, and soil moisture. (00:05:06) Credit: The Weather Channel.
YouTube
»