"Follow the river and you will find the sea." - French Proverb
Earth's coasts are dynamic, influenced by currents, tides, and freshwater outflow. As a result, these areas can be particularly challenging to observe with drifting in-water instruments. Space-based salinity sensors have improved our ability to study coastal zones, collecting steady streams of data over weeks, months and years. This information provides opportunities to investigate the world's river plumes and marginal seas in more detail, filling in missing pieces of the global water cycle.
Aquarius and SMAP salinity data have been used to examine marginal seas and river plumes emanating from five continents. The Amazon plume was clearly visible in Aquarius' initial data maps, its area covering nearly a million square kilometers. Such patterns of low salinity waters reveal the behavior of ocean currents in the North Atlantic Ocean. Moreover, research has demonstrated that the Amazon plume itself can contribute to the intensification of hurricanes that pass over it.
Satellite salinity data have also been used to connect land-based events to the ocean. Several studies have linked extreme precipitation or flooding events on land to low-salinity plumes in coastal seas. For example, low salinity has been used to trace flood waters after they entered the Gulf of Mexico from the Mississippi River, providing glimpses of how the fate of floodwaters may impact the Gulf's ecosystem.
In the interactive below, two different months of Sea Surface Salinity (SSS) data from SMAP can be compared using a slider. Though the data was captured only a few months apart, drastic changes are visible, particularly near the output of the Amazon and Orinoco Rivers and in the Gulf of Mexico.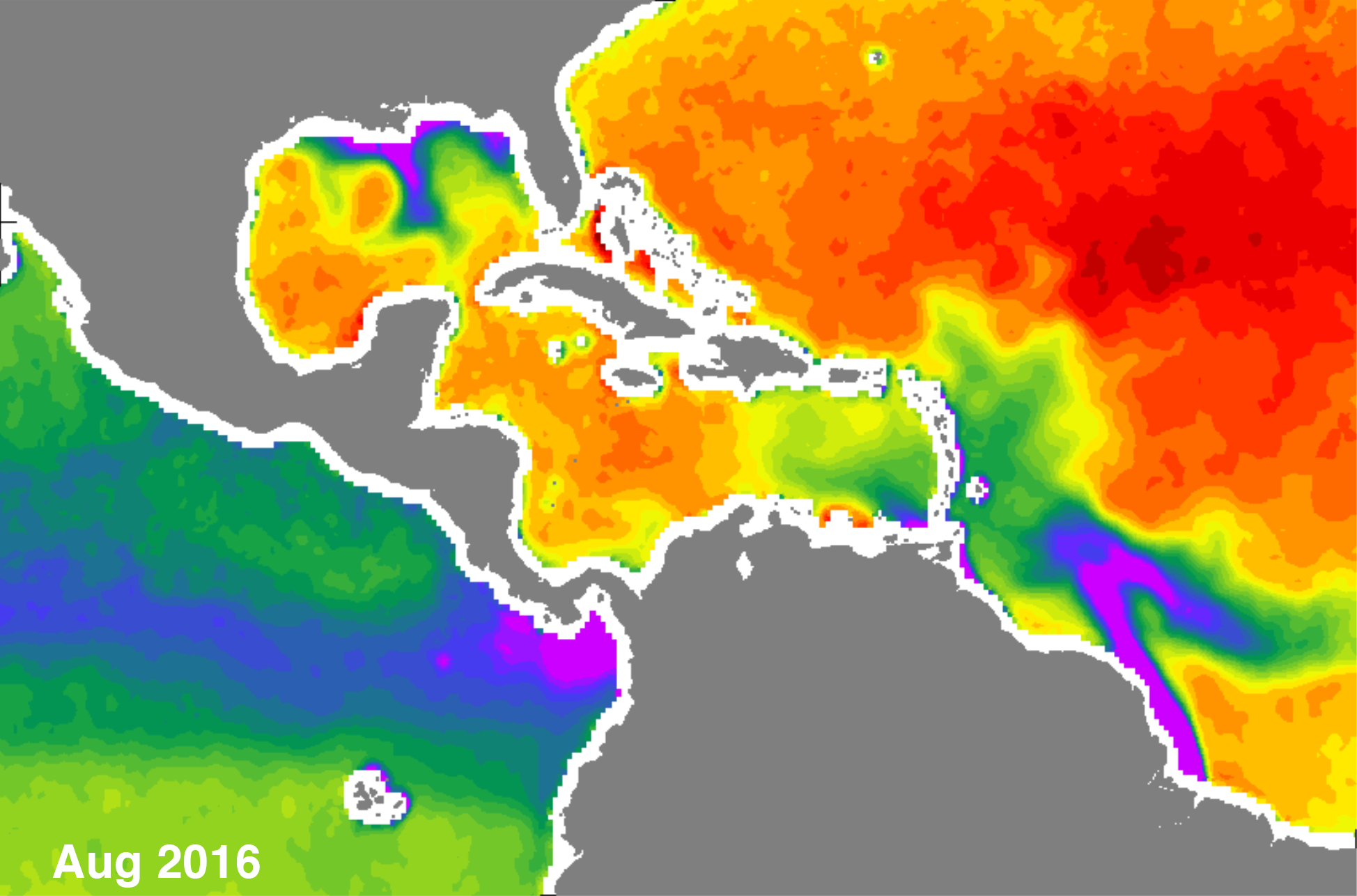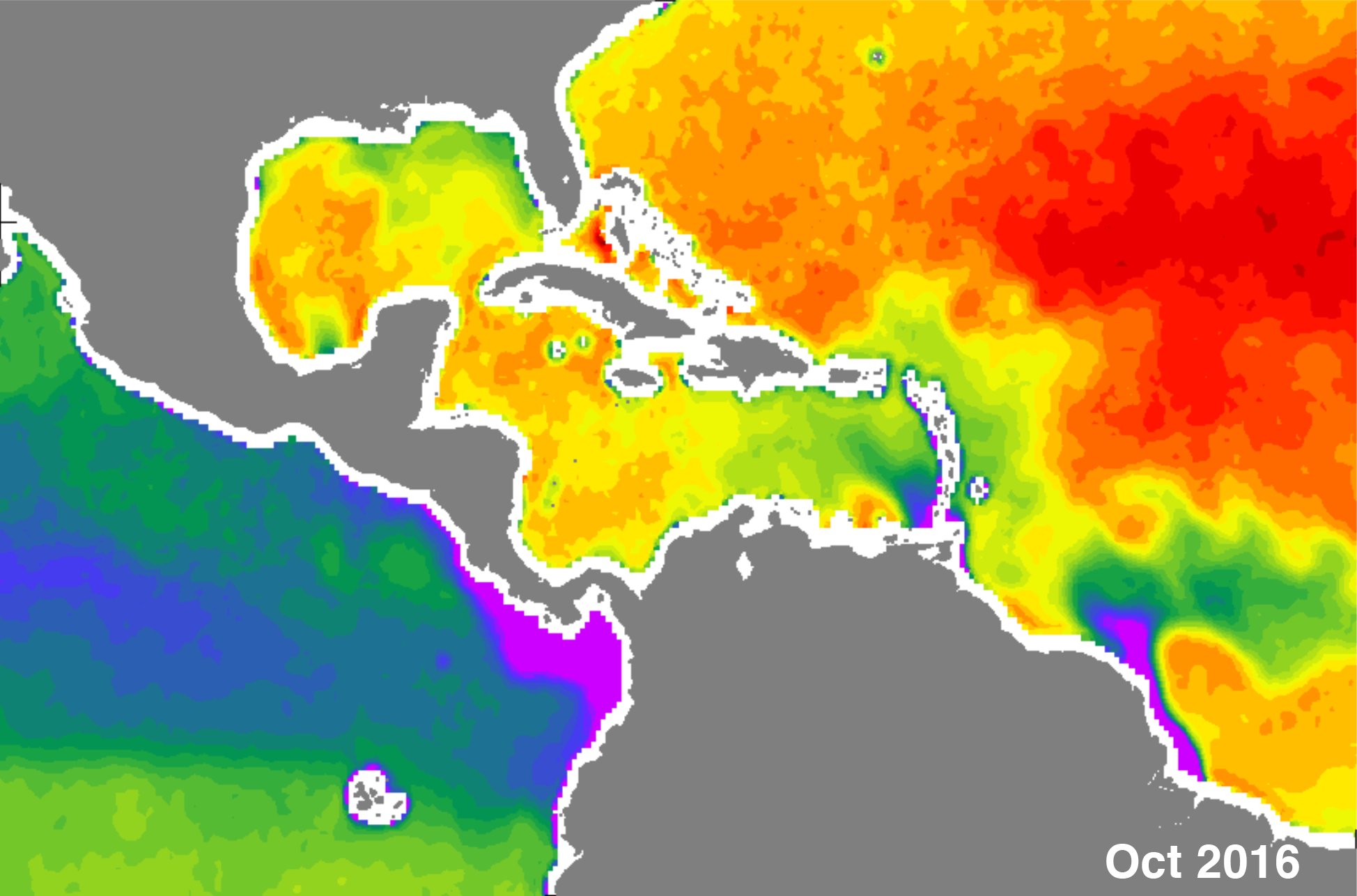 Sea Surface Salinity (practical salinity units)
Related Publications
Vazquez-Cuervo, J., García-Reyes, M. and Gómez-Valdés, J. (2023).

Identification of Sea Surface Temperature and Sea Surface Salinity Fronts along the California Coast: Application Using Saildrone and Satellite Derived Products,

Remote Sens., 15 (2), 484, doi: 10.3390/rs15020484.
Dumas, J. and Gilbert, D. (2022).

Comparison of SMOS, SMAP and In Situ Sea Surface Salinity in the Gulf of St. Lawrence,

Atmosphere-Ocean, doi: 10.1080/07055900.2022.2155103.
Li, W., Wang, Z. and Huang, H. (2022).

Seasonal and Intra-seasonal Variations of Surface Hydrological Parameters over North Yellow Sea and its Implications for Applicability of Quasi-synchronous Ship-based Multi-station Hydrological Investigation Data,

J. Sea Res., 190, 102310, doi: 10.1016/j.seares.2022.102310.
Zhang, L., Zhang, Y. and Yin, X. (2022).

Aquarius Sea Surface Salinity Retrieval in Coastal Regions Based on Deep Neural Networks,

Rem. Sens. Envir., 284, 113357, doi: 10.1016/j.rse.2022.113357.
Levin, J., Grodsky, S., Vandemark, D., and Wilkin, J. (2022).

Haline Control of Unusually Deep Winter Mixing in the Gulf of Maine Investigated Using a Regional Data-Assimilative Model,

J. Geophys. Res. Oceans, 127 (11), e2021JC018281, doi: 10.1029/2021JC018281.